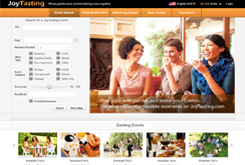 Project Description
Time: 2011
Tools: Adobe Photoshop, Adobe Dreamweaver
Device: Desktop
Task: Web Design
A portal designed to promote gastronomy and socialising among all age group of people.
• JoyTasting will encourage people to find an event, based on their age group,
type of event, type of food or number of guests.
• This project was designed for the Department of Industrial Engineering, New University of Lisbon.