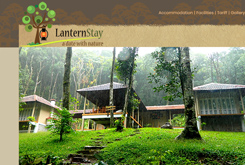 Project Description
Time: 2014
Tools: Adobe Photoshop, Adobe Dreamweaver
Medium: Desktop
Task: Web Design & Basic development
LanternStay website designed for a deep forest resort in Wayanad, Kerala, which promote responsible eco-tourism in Kerala.
This site designed as a single page concept to reduce navigations and complexity.
Forest colour theme was used as the colour scheme of the website. Options of online booking, rating and FB page activities. User can view accommodation details, photo gallery etc from the main page.